Sega releases Super Monkey Ball 2: Sakura Edition for Android
2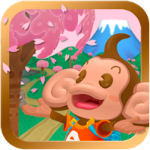 It seems like we may be seeing the beginnings of a new trend in game making: if you don't have any ideas, just toss some cherry blossoms in there and claim the whole thing takes place in the mystical country of Japan (because nowhere else in the world has cherry blossoms, of course). We saw it last week with
Angry Birds
, and now Super Monkey Ball has gotten similar treatment.
Or, Super Monkey Ball 2, to be more exact, which has gotten a new Sakura Edition to celebrate springtime and the lovely cherry blossoms of Japan. Super Monkey Ball 2 makes it a little more Japan-like with a few temples to go along with the cherry blossoms and Mt. Fuji, but the effect is similar. There is a ton of content to be had though. The game features 6 worlds, 125 stages and 4 extra mini games. Not a bad deal.
The game hit the iTunes App Store back in February, but today marks the start of the launch sale for the
Google Play Store
. For a limited time, the game will be just 99 cents, and after that it will likely bump up to around $2.99 or so.