See the BlackBerry Passport survive a 20ft drop
39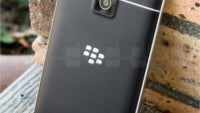 Ah, stress tests... call them drop tests, blender tests, bat, fire, liquid nitrogen, or whatever else tests – they have become an inevitable part of what happens when the public gets its hands on a new device. Will it bend? Will it break? Will it be fun to shoot it with a sniper rifle and watch it get demolished in slow motion? These are questions, which vloggers seem to be eager to answer as soon as a new flagship hits the market.
Well, the latest victim to come to the party may be a little late, but it does show up, and goes, with a bang. We are talking about the
BlackBerry Passport
and yes – we are about to show you a video, where the device gets tortured until it finally gives in. Thankfully, the durability test starts out tame and we are treated to a demonstration of the handset's sturdiness, before it gets destroyed in a very unconventional scenario (banging at its front with a hammer). The phone survives a pretty hard throw at a baseball field, then a 20-foot drop over rocks, where it falls on its back and remains perfectly functional. Another 20-foot drop test is performed, at which the screen is the first to touch the ground, resulting in the glass cracking up. Nevertheless, the phone still works, so the torturing continues some more and shows the Passport to be one strong phone.
This is not the first time this handset was dropped and thrown around.
Check here
to see how it does against concrete.
The Passport, maybe surprisingly, turned out to be a popular enough handset in its own right. It
sold out
two days after its initial launch – granted, BlackBerry took the conservative route and only produced 200,000 units, but when another round of devices was made available – they were
gone within hours
as well. The Passport is a unique handset, aimed at the business crowd. It brings a large 4:3 display, a physical QWERTY keyboard with an innovative capacitive touch functionality, and a hefty 3450mAh battery, which promises a good amount of time to work on the device, before it starts crying for its juice box.