See Fruit Ninja being played with a real knife on a Sony Xperia Z3
13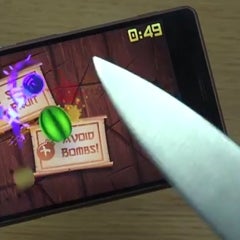 Not long after we saw the
Xperia Z3
passing unusual
Cola & Nutella tests
, Sony's latest flagship smartphone was put to another test, this time in order to showcase the sensitivity of its display.
What's this new test all about? Well, someone decided to see if he could play
Fruit Ninja
on the Z3 using a real knife. In case there's someone out there who doesn't know what Fruit Ninja is: it's a fun game that lets you slice fruits by swiping your finger on the display. As it turns out, you can also swipe a knife - at least on the screen of the Xperia Z3, which showed no damage after the game ended.
Launched by Sony last month in Europe and Asia, the Xperia Z3 is also headed to the US, where
T-Mobile will sell
it starting October 29. The Z3 is an incremental update over the Xperia Z2, featuring a slimmer (and better designed) body, a slightly faster processor, an enhanced rear camera, and a longer-lasting battery. You should read our
Xperia Z3 review
to find out more about the handset.