Fruit Ninja 2.0 update brings functional power-ups and new characters
4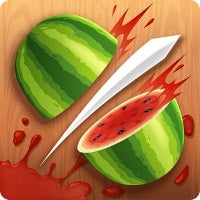 Fruit Ninja 2.0 is out on the App Store in a bid to prove itself a worthy fruit-mincing update. The game has seen some additions such as an experience system and a currency for buying power-ups. Players can equip different Blades and enter Dojos. Previously, upgrades were only cosmetic, but now, almost every item has a gameplay effect.
Developer Halfbrick Studios says that this "has effectively broken the score ceiling and added an exponential amount of depth and strategy to slicing". Thus, Fruit Ninja 2.0 has to be the most in-depth, profound fruit slicing game on the market.
In addition to its deeply intricate fruit slicing, the game has power-ups such as the Great Wave dojo which periodically spawns ten fruits at once, and the Autumn Blade, which makes a fruit tornado out of sliced pineapples. The update also brings new characters to the scene, starting with Katsuro and Mari. Welcome aboard! Katsur is the star from "Katsuro's Training Day", the latest episode in Halfbrick's "Fruit Ninja Origins" web series. Nice!
The update is free for users who bought the game. The game is available in both free and paid versions, compatible with Apple devices running iOS 6.0 or later. Fruit Ninja is also on the Google Play Store,
Download Fruit Ninja 2.0 for Android:
Free
,
Paid ($0.99)
Download Fruit Ninja 2.0 for iOS:
Free
,
Paid ($0.99)