Screenshots show off changes to Google Play Store in Android 4.4
17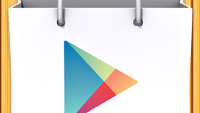 Screenshots alleged to be from Android 4.4 KitKat reveal some changes to the Google Play Store. The three-line hamburger style slide-out navigation will be added and the options will include
Store home
,
Apps
/
My movies & TV
,
Shop
.
My Wishlist
and
Redeem
. In addition, more cards will be coming to the Google Play Store, similar to the changes seen with the latest update to Gmail.
The new update for the Google Play Store is expected to be compatible for phones running Android 2.2 and up to Android 4.4. No APK is available at this time, and the word is that the update is being tested on KitKat right now. If you want to pin us down on what the actual changes will be, we'd say that instead of cramming all the navigation options into one space, the hamburger navigation allows you to slide for navigation, leaving just
Help
and
Settings
as the choices on the menu.
As a fan of Google Now and the cards interface, we're looking forward to seeing how Google will implement this in version 4.4 of the Google Play Store, designed for Android 4.4. Funny how that works out. If you want to catch a glimpse of what the Google Play Store will purportedly look like after your Android handset ingests a KitKat, click on the slideshow below.
source:
AndroidPolice
via
AndroidAuthority