Screenshots confirm speculation about T-Mobile version of Samsung GALAXY Note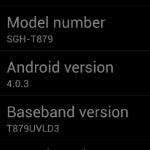 hinted at a T-Mobile version of the Samsung GALAXY Note
. Now, TmoNews has obtained a number of screenshots showing off what appears to be a T-Mobile variant of the
Samsung GALAXY Note
. The model number is SGH-T879 and the build number of IML74K.144 matches the build number of the AT&T version of the phablet. This makes sense since both models were built at the same time and are true brothers.
With the build servers and the time stamp matching up to Samsung's official build info, the screenshots could be legit. The images are reduced in size from 800 x 1280 and the design
matches what Samsung's TouchWiz looks like on Android 4.0
. Not that
TmoNews
is making this seem like a slam dunk. The site recommends having your bottle of salt handy and we agree that some skepticism is healthy until we hear from the nation's fourth largest carrier.
Still, it gives T-Mobile customers something to look forward to and when added to the information we passed along on Saturday, it comes out to a strong chance that the Samsung GALAXY Note will end up on the carrier's line-up.
source:
TmoNews