Screenshot shows Nexus 5 running KitKat
27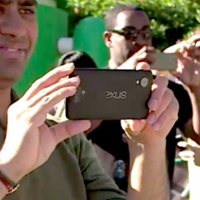 On Sunday a leaked screenshot appeared, allegedly showing Android 4.4 running on the new
Google Nexus 5
. We see the same white and gray status bars
that we saw on that leaked image of the Android 4.4 keyboard earlier this month
. There is a new, white Wi-Fi icon and the debug icon will apparently stay as a slice of key lime pie. Wonder how that negotiation with Nestle's was handled. ("
We don't care about calling Android 4.4 KitKat, but even with the zillions of dollars you're paying us, we refuse to change the debug icon
.") Actually, this could still be an early build and the icon might change in future versions.
Besides the screenshot, we also have the log files that confirm LG as the manufacturer and also show that the resolution on the screen will be 1080 x 1920 which is FHD, of course. The log files also show that the Nexus 5 will support
wireless charging
. The version of Key Lime Pie running on the device is KRS74H, and dates back to September 13th. Additionally, the log files show that this phone is called Hammerhead which is the code name for the LG D820, more affectionately known as the Nexus 5. Linux Kernel version
3.4
.0 is apparently what the Nexus 5 is running on.
source:
Myce
via
Phandroid