Screen test iPhone, Android and Windows Phone flagships side-to-side: Lumia 900 wins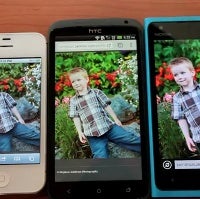 Nowadays, a screen is most of what you see of a smartphone - screen sizes have grown to 4.7 inches as almost the norm for flagship Android handsets, and Windows Phone also has some 4.3-inch and larger devices. The only platform that sticks to 3.5 inches so far is iOS and Apple, but while that might change, it's interesting to see how the best of the current three big mobile operating systems stack up in terms of display quality.
For Apple, the iPhone 4S is the most recent representative, Android is in turn represented by the HTC One X and Windows Phone finds its face with the Lumia 900. The screen sizes and technologies are different, but what about the actual image they show?
In order to get rid of bias, YouTube user foxfire235 took
a picture with a high-end DSLR camera
, the Canon 5D Mark II, and beamed it to the three handsets. Which one got the most pleasant colors? Turns out, the Lumia 900 is a clear winner.
It shows a well saturated image with lively colors, almost as if the picture was printed onto the display. The
Lumia 900
uses a 4.3-inch ClearBlack AMOLED screen. Interestingly, the picture looks stunningly good even with the WVGA resolution of the display. The saturation is turned up a lot, and this might also contribute to the effect, but while purists might argue against this, it makes the image punchier, more impressive to the eye.
The HTC One X also showed how beautiful the picture is on its Super LCD 2 4.7-inch screen, and the iPhone 4S was also extremely detailed but saturation could have been a notch higher. Check out the video comparison below and let us know - which one you think did best?