Scratch test shows the limits of Apple's Ion-X glass on the Watch Sport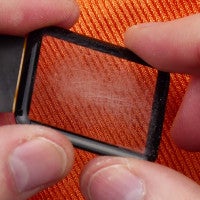 With pricing ranging from $349 to the tens of thousand dollars, it's fair to say that you have quite some choice when it comes to Apple's Watch. But, as you can imagine, more money gets you a better gadget, and not just in terms of cosmetics – like more premium straps and bezel materials – but also superior essentials. We're referring to the protective sheet of glass that Apple is using for its different Watch models – the cheapest, Watch Sport variant has to make do with Ion-X glass, while the
Apple Watch
and Apple Watch Edition ones are treated to sapphire glass.
A 'scratch' test carried out by
Unboxing Therapy
highlights the limits of the former, cheaper solution. While the Ion-X layer of glass holds up to scratches from, say, a knife, it is completely destroyed by sandpaper – something that wouldn't happen to sapphire, which holds up extremely well in tests of this kind. Obviously, since you won't be wearing the Apple Watch Sport in your bag or pockets, which are quite unlikely to house sandpaper anyway, this may be seen as a moot point – a hypothetical worse case scenario that has no real-world consequences. Still, the fact is that, like Gorilla Glass, Ion-X glass is not immune to scratches, which usually occur when you bump your device somewhere. In our experience using smartwatches so far, this is more common an occurrence than we're comfortable with, so either be extra careful with your Watch Sport, or just start learning to live with the idea that, a year or two down the road, your once shiny smartwatch may just feature a battle scar or two.
Take a look: