Scottsdale Apple Store robbery turns awry thanks to a vigilant cabbie
11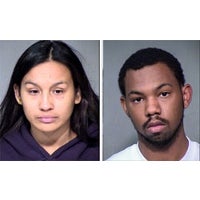 All things Apple are currently in high demand, and the economic situation is raising crime rates across affected regions, so the news for a Scottsdale, Arizona Apple Store robbery on the second day of 2012 wasn't going to appear on national TV.
What makes the incident stand out, however, is the fact that while the iRobbery trio was sneaking out with $75 000 worth of MacBooks, iPhones and iPads loot, a taxi driver spotted the scene, and tried to follow them into the night, as it was 2am.
The three armed robbers, two men and a woman, started driving away, and even fired shots from the escape car to the cabbie, who, however, showed remarkable resilience, and kept on chasing.
Later on, his testimony, along with the security cam footage, helped identify the Apple Store burglars. They turned out to be three Mesa residents - James Combs and Daniella Sierra (pictured in the thumb), as well as a 17-year-old. We'll spare the jokes about Apple fandom for less exemplary citizens than the taxi driver mentioned.