Google Home Routines can now be set to take place at scheduled times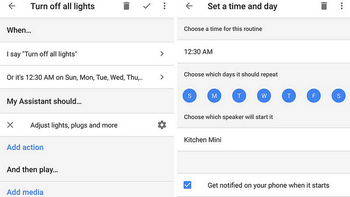 An update rolling out to the iOS and Android Google Home app is adding a new feature to Google Home Routines. The latter capability allows you to say one command and have Google Assistant take care of a number of tasks. You can use Routines pre-set by Google, or create a custom Routine. For example, you can set Google Assistant to respond to "Google, it's getting late," and have the smart lights turned off, the temperature on the smart thermostat hiked, and relaxing music streamed. You can also have an alarm set for the next morning.
Regardless of whether you prefer your own custom Routine, or use one already created by Google, the aforementioned update will make using the Routines feature even better. Once the update is installed on your mobile device, you'll be able to schedule these Routines to start at certain times. So if you conk out earlier than usual, your bedtime Routine can still be completed automatically without requiring your verbal input.
Set up a new Routine by opening the Google Home app and going to
Settings
>
Routines
. Click on the "+" button to build your Routine. You should also see an option that reads, "Set a time and day (optional)." Fill in the blanks, and this specific Routine will take place every day at the same time. Once the Routine is completed, you'll hear an audio signal from your Google Home unit and receive a notification on your phone.