Scanadu Scout connects to iPhones and Android to make monitoring your health easy
2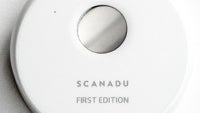 We're at the dawn of a new age, where technology and biomedicine come together to bring us a level of understanding about our body that we've never had before.
The Scanadu Scout is one of the first devices to stand at that cross-section between technology and biology. A little gadget packed with sensors and fine-tuned algorithms, you just hold it to your temple for a few seconds to get a reading of your bloodpressure, heart rate, temperature, and blood oxygenation (SpO2). What's particularly awesome is that there are no cuffs, or any other complications - you just take the gadget, place it to your temple and get a reading.
An app for iPhones and Android tracks measurements over time, which in turn builds a comprehensive picture of your vitals over time.
Scanadu aims to bring the dream of Star Trek's medical tricorder to life
Many say that this is the first step towards a sci-fi device like the medical tricorder we've seen in Star Trek. Luckily, this fantasy is about to come to life in a fully FDA-approved, medical-grade device. The Scanadu Scout is not yet FDA-certified, but it has started going on that long road, and is expected to get approved in the not too distant future.
Along with the Scout, Scanadu is working on body fluid analysis: color-based urinalysis with disposables named the Scanaflo, while in the long haul the company is planning further analysis (possibly of blood samples). The Scanadu Scout is already being manufactured in Fremont, California with shipping to backers (it started as a very successful Kickstarter project) in late January. The price paid by most backers was $199.
source:
Scanadu