Save 5 cents a gallon at the pump with new Cumberland Farms app, SmartPay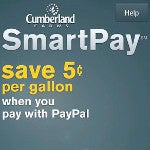 When you think of Cumberland Farms, you think of milk and gas. No, not the kind of gas that comes from being lactose intolerant. Cumberland Farms operates combination gas station/grocery stores similar to Seven-Eleven. Fifty Cumberland Farms units in Massachusetts are involved
in a test of a mobile payment system called SmartPay
that is the result of a partnership between Cumberland Farms and PayPal's Boston office. Last April, PayPal bought Fig Card which was working on a mobile payment system.
All you need to use the app is an Apple iPhone, or an Android device. The app is available for free from the Apple App Store or Google Play Store. For those running with another platform, there is a version for the mobile web. And you need to have a PayPal account. Once the app is installed, you open it and your phone's GPS automatically find the Cumberland Farms store that you are at. You are then asked to sign into PayPal. SmartPay does its thing quickly and within seconds, the pump is ready to go and you are filling up your car with fuel. When done, you are shown the amount you spent,
which includes a 5 cent a gallon discount
funded by PayPal as a way to promote the app.
After you are done with the transaction,
a receipt is sent by email
. Apparently, Cumberland Farms also sends an email to say that you had authorized a payment of $100 to them, but the fine print reveals that you authorized a payment of up to $100 and that you will be charged only for the amount of gas you purchased. This could be a bit confusing to the consumer, but remember that this system is just undergoing testing.
Dave Banks, the chief information officer of Cumberland Farms, said that he would like to see SmartPay rolled out to all 600 of the company's locations and have the discount raised to 10 cents a gallon. He also said that the program could also be used so that consumers could buy a quantity of gas at a set price and draw down gallons every time they hit the pump. This could protect consumers from rising gas prices, but also prevent them from taking advantage of falling prices.
One good thing about using SmartPay is that during those cold days up north, you can stay in your car to get the pump turned on before going outside to pump the gas. It doesn't seem like much, but imagine the time you can save using this app instead of that whole process of swiping your card and entering your zip code.
One last thing. Some of you might be concerned that using your smartphone near a pump can lead to an explosion that would leave a decent sized crater where you and your car had been standing. According to Banks,
there have been no cases of a fire or explosion at a gas pump caused by a mobile phone
, although static electricity is a different story. Additionally, Cumberland Farms had to get approval from the fire department in each town where SmartPay is being tested.
source:
Boston.com