Samsung offers instant $300 discount on any Galaxy S10 phone with qualified trade
11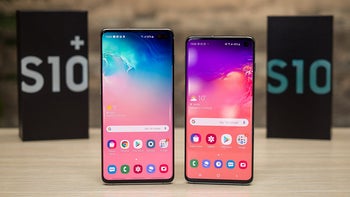 Samsung's $550 trade-in deal
for the
Galaxy S10e
,
Galaxy S10
, and
Galaxy S10+
is over. But that doesn't mean that Samsung doesn't have a deal for you. If you have a qualified trade to give Samsung, you can get $300 instantly removed from the price of one of the three phones in the Galaxy S10 lineup. Some of the phones that can earn you a $300 discount on these models include the Pixel 3, Pixel 3 XL, Galaxy S9, Galaxy S9+, Galaxy Note 9, Galaxy Note 8, iPhone XS Max, iPhone XS, iPhone X, iPhone 8, iPhone 8 Plus, iPhone 7, iPhone 7 Plus. Other models can get you $200 off in a trade.
Here's how this works.
Go to Samsung's website
and select the Galaxy 10 model you want. Choose the carrier, storage size, and color you want. You then will have an option to click on a box that says "Trade-in and save up to $300." Select the manufacturer of your trade and then click on the model. You will then be asked if your device turns on and if there are any cracks on the display. If you say "yes" to both, you must agree to factory reset your trade before you send it in. If you agree to this condition, the price of the Galaxy S10 model you are buying will drop by $300. You then ship your trade to Samsung within 15 days from the date that your new phone arrives. If your trade comes in as promised to Samsung, there is nothing more to do. On the other hand, if you fudged a bit on the model and condition of the phone you trade in, Sammy will charge you an additional $300.
Last week, we told you that quite a number of consumers who have sent in trades to Samsung
have not been given the correct credit for the phone they sent in
even with photographic proof. One person, who sent in a
Galaxy Note 9
in order to receive $550 in credit toward a Galaxy S10 model, was told by Samsung that they were being charged $550; it seems that Samsung said that the device it received from this customer was a
Galaxy S7
. You might want to document everything you do when packing your phone up by taking pictures or video.