Sanjay Jha says it will be a September launch for the Motorola DROID Bionic
47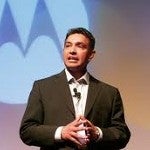 This news about the launch of the Motorola DROID Bionic could not come from a
higher authority
. Well, ok, perhaps there might be one authority higher than Motorola Mobility CEO Sanjay Jha but that entity probably has more on his/her mind than this handset. Meanwhile, during a conference call to report earnings, Jha told those attending the call and listening via the web that the Motorola DROID Bionic will
launch sometime in September
. Originally, speculation centered on an August 4th release
You might recall that just the other day we
reported
that a leaked internal memo for Sam's Wholesale Club reps told them that the heavily awaited device will be pushed back to September. And now, unfortunately,
this has been confirmed
. The people affected the most are those who took a flyer on the Motorola DROID 3, thinking that if the Bionic launched on August 4th as originally expected, these people could return the DROID 3 with no penalty and exchange it for the LTE enabled DROID Bionic. Now, with the latter's release pushed back a month, that strategy will no longer work.
source:
AndroidCentral