Samsung's very own Android developer forum goes live
5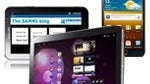 Thanks to
Samsung
, amateur and professional Android developers have a new virtual playground where they can share ideas and polish their programming skills.
The company has just launched its very own developer-oriented forum
, and judging by the tools that it offers, it can be of help to novice and hardcore programmers alike.
The forum features a ton of helpful information, yet naturally, it relates exclusively to Samsung's Android devices. Nevertheless, developers who do not mind creating software by using Samsung's Android smartphones and tablets as a canvas will be pleased to find detailed product hardware specifications, both basic and advanced code examples, coding tutorials, software development kits, and even device emulators. There is even a way of uploading your app and getting it tested on a real Samsung device under the company's supervision!
So, if you are into software development or you want to get involved but don't know where to start, check Samsung's forum out. Who knows, maybe you can become the next Bill Gates.
source:
Samsung
via
Android Central