Samsung's top lawyer says Apple won't see a dime from the latest verdict
20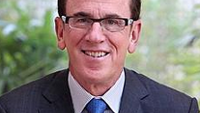 John Quinn is an attorney at Quinn Emanuel Urquhart & Sullivan. In his rolodex, you will find the phone numbers of Google, Samsung and a number of Android manufacturers. Quinn recently represented Korean based Samsung in the second Apple-Samsung patent trial. Apple was seeking $2.2 billion for the alleged infringement of five patents,
but was awarded just $119.6 million for the infringement of three patents
. Considering that Apple got only 6% of what it was asking for, most consider the verdict to be a win for Samsung.
Quinn believes that Apple might not even see 1 red cent of the award. Samsung plans on
appealing the verdict
. As for the $930 million that Apple won in the first trial, Quinn sees that figure reduced drastically on appeal, if not completely overturned. And that leads the attorney to make his grand statement that Apple has spent hundreds of millions of dollars on these trials with nothing to show for it.
"Up to this point, I think Apple really hadn't given up hope [it] could cripple Android somehow," John Quinn said in an interview with CNET. "This has got to be the last straw. They've got to realize they're not going to slow Android down by suing people...they (Apple) have nothing to show for the hundreds of million of dollars they've spent. I'm sure they're looking for a graceful exit. ... I'm pretty sure the Apple smartphone wars against Android are a thing with a limited future."-John Quinn, attorney, Quinn Emanuel Urquhart & Sullivan
According to the attorney, the patent war is fizzling out. Still, Quinn doesn't have a precise time period when the battles will end. Unlike
the settlement between Nokia and HTC
, which the latter was forced into because
a German court had won four injunctions against the manufacturer
, Apple and Samsung do not seem close to any type of settlement, Quinn notes. As the recent trial was coming to a conclusion, Judge Lucy Koh asked both sides to explore mediation again.
The attorney is obviously "talking his position," as he does have a bias here. But in his heart, he thinks that eventually "
...even [CEO] Tim Cook, has got to realize this is a fruitless endeavor. I think everyone's tired of it. ... Reason must prevail at some point
."
source:
CNET