Samsung's poke at Apple picked as one of December's most remembered T.V. ads
13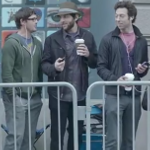 Samsung's ad
making fun of Apple iPhone users waiting in line
for the next iteration of the phone, has been named one of last month's
Top Ten most-remembered ads
on T.V. by Nielsen. While iPhone users wait on line, they see people passing by with the
Samsung Galaxy S II
. The most memorable part of the commercial takes place as word spreads that the cool looking phone that the passer-by owns is a Samsung. One of those Apple fans on line, who looks a bit like a slacker, says, "
I could never get a Samsung, I'm too creative
," to which his neighbor responds, "
Dude, you're a barista
." That has become a
great put-down line
that is now proudly worn on T-shirts
after Samsung ran the "Dude, you're a barista" contest.
The Samsung ad was the
only smartphone related commercial
in the Top Ten with a score of 150. That means that the ad is 1.5 times as memorable as the average television commercial. Victoria's Secret had the most remembered ad in December with a lingerie ad that had a score of 194.
Apple so far has not retaliated against Samsung in the court of broadcasting, although the Cupertino based firm has surely gone after Samsung in the court of law. The Korean based manufacturer might have decided to put these ads on hiatus after the
recent violence that occurred in China
. Lines of people waiting to purchase the Apple iPhone 4S threw eggs and fought with the police over Apple's decision to delay opening the doors at one of its Apple Stores in the country.
If you want to view the tenth most remembered television commercial for December, simply click on the video below.
source:
AdAge