Samsung's new Android apps enable you to experience the Galaxy Note5 and S6 edge+ for free
2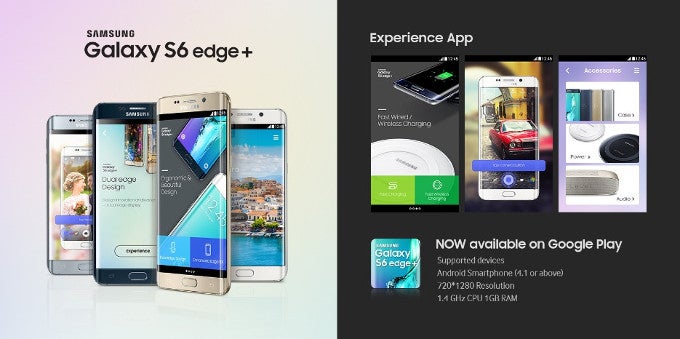 Samsung's
Galaxy Note5
and
Galaxy S6 edge+
are already here and they're all the buzz on the Android scene at the moment. Well, given their top-tier price tag and a bit complex global availability, certainly not everyone that likes what they see will be able to get their grubby paws on the metal and glass sandwiches that the Note5 and S6 edge+ are. For all those willing to try out the UI of the new super-premium phablets on the block, Samsung just outed a solution that will allow you to experience the two to some extent.
Two experience apps were just released on the Play Store, allowing willing users to try out some of the features that are on making the rounds on the new phones.
The apps, logically dubbed "Galaxy Note5 experience" and "Galaxy S6 edge+ experience" are freely available with just anyone with a compatible Android device to download and try them out (you need one running Android 4.1 or above, >720p display, 1GB of RAM, and a >1.4GHz chipset).
Get the Note5 experience app and you will be able to learn more about the display of the S Pen-equipped phablet, its Live Broadcast feature, and get introduced to some of the camera features in a couple of interactive demos.
Additionally, the S Pen features are also showcased in a couple of interesting demos, exhibiting the revamped Air Command menu, handwriting capabilities, and the new Scroll capture feature are some of the things you can give a spin by downloading the Note5 experience app. Last, but not least, you can take a 360-degree gander at the exterior of the phone itself.
The S6 edge+ experience app, on the other hand, allows you to experience (at least in a virtual way) the curved edge screen, the People Edge app, the Swip to wake functionality that allows you to wake up the S6 edge+ by swiping the subtle curves of the device, the camera and the Live Broadcast feature, as well as the fast & fast wireless charging functionality, all available in interactive live demos.
source: Samsung