Samsung's AllShare looks to do what Android@Home had promised
0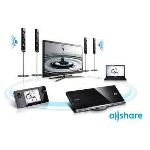 It looks like Samsung has finally realized that it can leverage the power and market share of its smartphones to push people towards more than just its other consumer electronics and into its appliances as well. If you don't remember
Android@Home
, it was Google showing off an idea (that may or may not ever become a reality) at last year's Google I/O, which would allow you to control everything in your home with your Android device. This meant anything from the lights, to your TV, thermostat, alarm system, etc.
Until now, Samsung's AllShare was essentially just its DLNA solution which allowed users to share media between mobile devices, computers, TVs, and other media devices, but Samsung wants to push that further. You see, it turns out that Samsung also makes a whole range of home appliances from refrigerators to washing machines and even LED lighting, and Samsung wants to add controlling those appliances to its AllShare system.
This means that you could control your washing machine from anywhere in your home using your smartphone (although the reason why you may need to remotely control your washing machine escapes us right this second.) This is definitely interesting, but we'll have to see it in action before we know how useful it will be.