Samsung vows to become the number one phone maker in the whole wide world
20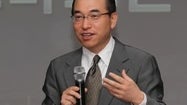 At the weekly executive meeting today, the VP of Samsung Mobile Hong Won-pyo reiterated Samsung's goal to become the world's largest cell phone manufacturer.
The company intends to use a three-pronged strategy to achieve that lofty goal - focus on premium smartphones, which bring in most of the cash, attack the mid-tier with smart devices, and flood emerging markets with affordable entry-level handsets, like
the four Android phones it just announced today
. The
simplified, coherent new naming scheme for its smartphone line
now makes a lot more sense, as it is probably a part of the overarching strategy as well.
Samsung didn't specify a timeframe for achieving world domination, but
last year it mentioned plans to replace Nokia at the top spot in three years
. Given
the recent developments in the Finnish camp
, and the fact that
both Apple and Samsung overtook Nokia in smartphone sales
for the first time last quarter, the Koreans might arrive at the finish prematurely.
The executive threw around some stats, which have further solidified Samsung's belief in the new strategy. Smartphones, for example, went from 22% of 1.36 billion mobile phones sold last year, to nearly a third of 1.55 billion expected to sell in 2011. Not only that, but smartphones took 54% of the mobile industry's $183 billion of revenue in 2010, and this year they are expect to bring their makers $127 billion out of $200 billion up for grabs.
Samsung also showed that the smartphone sales represented 80% of totals in Korea, up from only 16% same time last year. In North America and Europe, smartphone sales represent half of the totals, in Asia-Pacific 25%, Latin America - 16% and in Middle East and Africa 14%, so in the last three regions there is still a huge potential for landgrabbing.
Mr Hong also noted that the tablet market is expected to reach 150 million units a year by 2015, and Samsung wants in on that action,
planning to increase tablet production five times
. The last but not least goal the ambitious executive placed for Samsung, is to narrow the gap with Apple in the US, where currently the South Korean company achieves 80% of Apple's sales with the whole of its mobile portfolio.
We'll just note that last quarter Samsung declared a profit margin of 13.7%, which is its highest in years, and only two percent behind HTC's - clearly a sign of a healthy product mix and good strategy execution in the cutthroat mobile business, so the company seems to be on the right track not only in talking it up, but in actual results as well.
source:
MK
via
SammyHub