Samsung unveils new Galaxy Ace Duos
10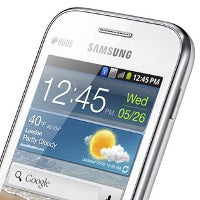 The Samsung Galaxy Ace has become one of the most successful phones in the low to mid-range, but while we're waiting for the Galaxy Ace 2 to hit shelves in the second quarter of the year,
Samsung has unveiled the Galaxy Ace DUOS
.
This Ace Duos is a dual SIM phone with GSM-only support, and the latter is what makes it different from the previously announced CDMA+GSM Ace Duos. The two SIMs allow you to take the best deals of two carriers. The downside is that once in call on one of the SIM cards, the other is not active.
Except for that, there's nothing new - the same
3.5-inch HVGA (yikes!) display
, an 832MHz processor, 512MB of RAM, a 5-megapixel rear camera and Android 2.3 Gingerbread all make for a passable experience for an affordable phone.
The Samsung Galaxy Ace Duos release date is June for Russia, followed by a debut in Europe, CIS, Latin America, Southeast and Southwest Asia, Middle East, Africa, and China.
Right now, that's one of the best dual-SIM options on the market. Traditionally, a territory for ultra low-cost phones, dual SIM functionality is slowly climbing to more advanced handsets, but we're sure carriers don't like this trend, so we think it's safe to assume there will be no high-end phone with dual-SIM functionality in the near future. How do you like the Ace Duos, would you get one?