Samsung unveils Android 4.4 KitKat update plans and devices, roll out starts today in the US
72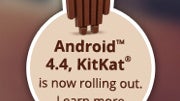 Samsung has just unveiled the full list of devices that will get
updated to Android KitKat
, and confirmed that updates start rolling out today.
The Korean company will update its smartphones and tablets directly to Android 4.4.2 (skipping 4.4 and 4.4.1), the latest KitKat version that has ironed out the minor issues in the original 4.4 release.
Right below is a list of Samsung devices in the US that are now officially confirmed to get updated to the latest sweet Android treat:
The most impatient of you can check manually for the update by going into:
Settings -> More -> scroll down to 'About device' -> Software Update -> Check for updates
All else, however, should not worry as the update will pop up automatically on their devices when it's ready (chances are this will happen in a few days or even weeks, since the roll-out is gradual). The update happens over the air (OTA), so the only thing that you'd have to do once it's available is to accept it, and wait for the files to download and install. Also, make sure that your phone battery is full when you start the update. Finally, do keep in mind that some carriers are slower in validating Android updates, and if you own a carrier-branded phone, the update might be slightly delayed.
If you have gotten the KitKat update already, do let us know in the comments below and feel free to send us a tip with screenshots as well.
Samsung Confirms KitKat for U.S. Smartphones and Tablets
DALLAS, February 18, 2014 – Samsung Telecommunications America (Samsung Mobile) announced today that a number of Samsung Galaxy® devices will receive the Android 4.4.2 (KitKat) software update, enriching the Galaxy experience.
The upgrade provides a number of innovative, easy-to-use features that enhance the user experience, including a more intuitive user interface, enhanced messaging capabilities and updated applications:
Location Menu: An integrated location menu enables users to easily activate GPS, Wi-Fi and mobile networks, while simultaneously checking the battery usage of apps running location service capabilities.
Enhanced Messaging: Enables users to choose between Messages or Hangouts as their preferred default messaging application, and select from a larger assortment of updated Emoji icons.
Upgraded Google Mobile Service™ (GMS) apps: Users can automatically back up photos and video and can open, view, rename and share Google Docs and files.
Samsung Galaxy U.S. devices currently scheduled to receive the KitKat update include select carrier variants of the Galaxy Note® 3, Galaxy Note® II, Galaxy S® 4, Galaxy S® 4 mini™, Galaxy S® 4 Active™, Galaxy S® 4 zoom™, Galaxy S® III, Galaxy S® III mini™, Galaxy Mega®, Galaxy Light, Galaxy Note® 8.0, Galaxy Tab® 3, Galaxy Note® 10.1, Galaxy Note® 10.1 2014 Edition.
Availability varies by carrier and product, with updates beginning today and continuing throughout the coming months.