Samsung to release "series" of AMOLED devices with more than 250ppi pixel density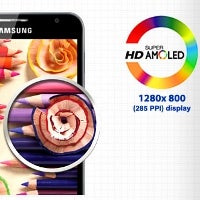 Samsung is by and large the biggest single player in the AMOLED game, and in a post that details the shifting focus of display companies, Digitimes mentions casually that it will "
launch a series of diverse models with increased pixel amounts of over 250ppi.
"
The AMOLED display industry is slowly picking up steam, and moving from smartphones to tablets and even overly expensive TVs. Traditional players like AUO, CMU and Wintek are reallocating resources to more OLED screens production, while even the Chinese Visionox, Tianma and Irico are experimenting with 4.5-Generation production lines, meaning that they are developing their own OLED versions. Touch panel makers like CPT, HannStar and Sintek are also increasingly turning focus to specialized AMOLED touch overlays.