Samsung trashed more than a football field of glass to make the HD Super AMOLED screen on the Galaxy Nexus
24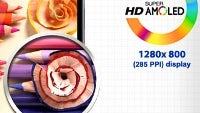 A recent article in the Korean Dong-a Ilbo (East Asia Daily) sheds some light on the mysterious workings of Samsung's research labs regarding its exclusive Super AMOLED screen tech. So far we have been in the dark if Samsung is using the traditional Fine Metal Mask (FMM) method of producing the 720p AMOLED displays in the
Galaxy Nexus
and the
Galaxy Note
, or has it moved to the more advanced LITI yet, which easily allows for >300ppi OLED pixel density. LITI has 2.5 micrometers printing accuracy, whereas FMM delivers the chunky 15 micrometers.
It seems that Samsung still used its existing FMM gear, so creating close to a million tiny dots on the screen the size of the 4.65" on the Galaxy Nexus was one of the greatest challenges its Mobile Display unit has faced. A special team called Dalli was formed with
the specific task to break the 300ppi barrier
above which the average human eye can't discern individual pixels from 12 inches (30cm) - the reason for Apple calling the 326ppi iPhone screen Retina Display.
After numerous sleepless nights the researchers managed to create a metal mask good enough for squeezing hundreds of thousands of organic light emitting diodes in its holes so that they don't smear and enough light passes through for the screen to be bright. Here's what the senior researcher has to say about the whole process:
That's more than a football or soccer field, but the result was worth it, and we are likely to see more results next year when
new methods enter mass production stage for the third iteration of the Galaxy S line
. Another researcher said: "
On the Galaxy Nexus screen, the distance between each pixel is a fifth of the thickness of a strand of hair.
"
Creating such a dense AMOLED display with existing production methods was said to be impossible, even by companies like LG. In
our own testing of the HD Super AMOLED display tech with PenTile matrix
arrangement we indeed concluded that you can't discern the individual pixels from normal viewing distance at such a high density.
source:
Dong-a Ilbo
via
OLED-Info