Samsung to release just one flagship smartphone line in 2017
38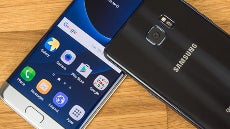 Samsung's tradition of releasing two flagship lines per year will not be repeated in 2017, if a report out of the firm's native South Korea is to be believed. After
the roll-out
and
subsequent abandonment
of the
Galaxy Note 7
following its well-documented battery issues, Samsung's purported shift in strategy wouldn't come as any great surprise. The firm must regroup and reassess its approach, and calming the release cycle down to one would help to better ensure product quality in future.
Over the past few years, Samsung fans have become accustomed to a choice of several flagship smartphones. This year, the
Galaxy S7
and
S7 edge
in H1 were followed by the Galaxy
Note 7
in August. Last year was a similar story, though the
Note 5
was also accompanied by a
Galaxy S6 edge+
. The familiar system of two major flagship release points won't recur in 2017 according to
The Korea Herald,
which infers that the decision to ditch the dual-flagship system is not yet final. Indeed, the report cites
'an official from one of Samsung's partner firms'
in noting that suppliers have yet to be notified of the move.
Precisely how Samsung will execute this new set-up is unknown, and such specifics are unlikely to be revealed any time soon. We've heard tidbits of
what may be included with the so-called Galaxy S8
but even if those details were or are true, recent events throw considerable doubt over anything we might think we know.
Whatever the case, here's hoping that whatever Samsung delivers with 2017's flagship(s), it can emulate the greatness of this year's models sans the battery (or any other) saga.
Do you think it would be right for Samsung to revert to one flagship line per year for the foreseeable? Do have your say in the comments.
Recommended Stories