Samsung to introduce 64-bit TouchWiz with the Galaxy S6, release date pegged for March 27th
19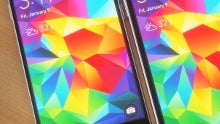 Just like Apple did with iOS, and matching the 64-bit Exynos and Lollipop kernel, Samsung might be releasing a 64-bit-optimized TouchWiz for the
Galaxy S6
, with completely rewritten stock dialer, messaging, gallery, and so on apps.
This nugget of info comes straight from
Poland
, where Samsung has a big R&D center, which often leaks software update builds, or whole upcoming phones inadvertently, especially from the Note line. The publication also claims that the release date in Poland will be on March 27th, which jibes with
our own info we presented to you yesterday
.
We've already heard that Samsung will both
trim
and overhaul TouchWiz, and will
offer its usually embedded apps as separate downloads
on the S6, so as not to gum up the working interface's fluidity without a real purpose. Apple already went the 64-bit iOS route with the 7th edition apps which were completely rewritten from scratch to take full advantage of the A7 chip's kernel. Given that the mighty 64-bit Exynos 7420 that will land in the S6 is so
screeching fast compared to anything on the marke
t, it can only please us that Samsung might have also overhauled TouchWiz for the new 64-bit Lollipop kernel realities, too.