Galaxy S6 Edge multi-core Geekbench score crushes everything, including the iPad Air 2
99+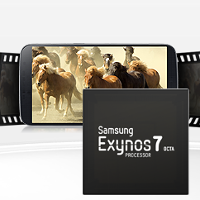 Well, if you didn't believe that 60, 000+ score it got on the AnTuTu benchmark, perhaps this next leak will convince you that we might be looking at the most powerful handset on the market when the
S6
lands. Its octa-core
Exynos 7420
chipset managed to crush it with 1,492 points in the single-core, and 5,077 points in the multi-core test. To put things in perspective, this multi-core result is way higher than any other mobile device at the moment, including the
iPad Air 2
, the reigning champ, which scores 4,532.
The single-core performance gives way only to the
iPhone 6
and
6 Plus
, or the
Google Nexus 9
tablet with its industrial strength
Tegra K1
processor, but for phone purposes - well, it is very unlikely that the S6 will meet a task it can't crunch for the foreseeable future with these scores. Let's see if it will be strong enough to power TouchWiz without hiccups, though Samsung is rumored to go with a
complete overhaul of the interface part
, too.