Samsung to diversify its tablet offerings with Windows 8, one might be shown next week
14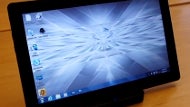 Microsoft's BUILD conference is starting next Tuesday, and Steven Sinofsky is expected to take the stage and introduce us to the new
touch-optimized Windows 8
on a tablet.
Korean Economic Daily, which often leaks interesting tidbits around Samsung and LG (duh), has been tipped by an industry source that
Samsung is prepping its own tablet with Windows 8
, to be showcased at the BUILD conference in Anaheim next week.
The slate is said to be more of a developers device, marking a first for a Microsoft-Samsung hardware collaboration, so, who knows, it might be exactly the one used for the presentation. We are curious what chipset will an alleged Samsung Windows 8 tablet sport.
Win 8 was demoed on NVIDIA Tegra 2 silicon
back in April, which will be a step away from Samsung's own Exynos family of chips, but the Koreans have enough experience with Tegra 2 as well, as they allegedly
scored a big order of those
last December. Alternatively, the Samsung Win 8 tablet could come with an Intel processor, like the Samsung Series 7 Slate PC.
In any case, it's Windows 8 itself that will make or break Microsoft's tablet foray, so we can't wait for the presentation next week, regardless of which tablet device bears the brunt of it. Below is video of the recently announced Samsung Series 7 Slate PC, which the company said can be upgraded to Windows 8, to gauge how a possible Samsung Windows 8 tablet might look like. It makes a lot of sense for the company to hedge its tablet bets, which are now solely tied to Android.
via
SammyHub