Windows caught running on an NVIDIA Tegra 2 chipset, Intel sighs
2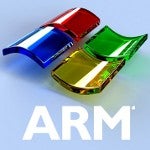 The idea that Microsoft is the software and Intel is the hardware in a PC, has been so deeply engrained in our thoughts, that the two companies are sometimes referred to as Wintel. That is why it marked somewhat of an era end, when at the MIX developer conference Internet Explorer 10 got previewed on a Windows machine, powered by an ARM-based chipset, which NVIDIA confirmed is its own dual-core Tegra 2, that powers phones like the Motorola ATRIX 4G.
The British mobile chip design architect ARM is quickly becoming Intel's archrival, since it is about two generations ahead in mobile chipset development, and the name of the game these days is mobile. Now that Windows 8 will be
able to run
on ARM-based chipsets, Intel's conformity becomes even more apparent, although it is
speeding up its mobile efforts
.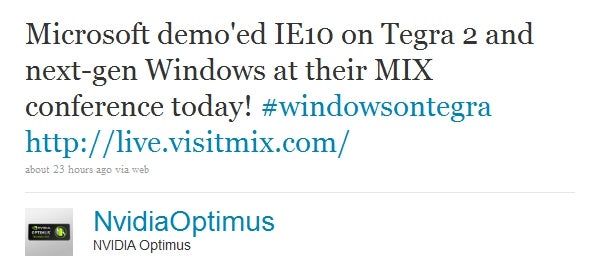 From this screenshot, showing the 1GHz dual-core NVIDIA Tegra 2 with 1GB of RAM powering Windows, to tablets with a touch-optimized full desktop operating system and great battery life, it is now walking distance. Windows 8, with its
Live Tile-based
touch tablet interface, own application store and seconds hibernation time, can't come soon enough to inject some cutthroat competition in the iOS and Android tablet hegemony. It's nice being a geek these days, and we are sure that consumers will all benefit from the big boys' fight in the end.
via
Engadget