Samsung takes its patent fight with Apple all the way to the Supreme Court
59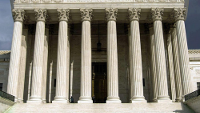 Earlier this month,
Samsung said that it would pay Apple $548 million by the end of the business day today
after being ordered to fork over that amount to its rival. That check would take care of the first patent infringement case
that originally awarded Apple close to $1 billion
. Judge Lucy Koh (you remember her, right?) eventually called for a new trial on the damages.
Even though some might consider Samsung lucky to get away with paying roughly half of the original verdict, the company itself doesn't think so. Samsung has filed a motion with the U.S. Supreme Court asking the highest court in the land to overturn the verdict. Samsung says that the jury was not given enough information to understand the patent issues.
Cases heard in the Supreme Court are selected by the justices, so there is no guarantee that the case will end up being heard by the Court. If it is, both Samsung and Apple will make 30 minute oral arguments as well as file briefs on the merits of the case. Samsung claims that current patent law is not suitable for modern times, which is the hook needed to get the Supreme Court to hear the case. Samsung adds that "
If the current legal precedent stands, it could diminish innovation, stifle competition, pave the way for design patent troll litigation and negatively impact the economy and consumers
."
source:
Re/Code
via
AndroidCentral