Samsung takes a jab at Apple, says you'll have no problems carrying a Galaxy Alpha in skinny jeans
52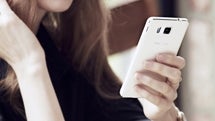 As you've surely heard by now, Apple's
iPhone 6 Plus
is prone to accidental bending. Only a few days after the handset hit the market, some users started noticing that
their giant iPhone got bent
after sitting in a front pocket. Not long after that,
a video showed up
to confirm that the iPhone 6 Plus can be bent easier than other devices.
Jokes about this whole affair - dubbed
#bendgate
by the internet -
started flying around
. And, as you may have expected, Samsung just couldn't stay out of it. The company's UK division today posted a tweet that reads: "Galaxy Alpha + skinny jeans = no problem." Obviously, Samsung wants the world to know that, unlike the iPhone 6 Plus, its metallic
Galaxy Alpha
won't bend in normal circumstances, despite the fact that, at 6.7mm, it's thinner than Apple's device. However, we have to mention that the Galaxy Alpha is much smaller than the iPhone 6 Plus, sporting a 4.7-inch display instead of a 5.5-inch one - so the fact that it's sturdier when compared to Apple's handset shouldn't come as a surprise. If anything, the Alpha can be compared to the 4.7-inch iPhone 6 - which, as
this video shows
, won't bend as easy as the Plus model. Still, it's interesting to see Samsung not missing this opportunity to promote its new smartphone.
As a reminder, the Samsung Galaxy Alpha will be
available in the US starting tomorrow
, September 26, via AT&T (which asks $199.99 for it on contract).