Will #bendgate impact your decision to get the iPhone 6 Plus?
99+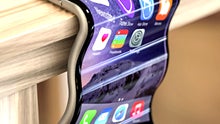 As you can see in the video below, the ultrathin
Apple iPhone 6 Plus
can be bent comparatively easily when applying pressure. The malleable aluminum might crook slightly at the area of the button cutouts, which is not that big of a surprise, given that the 6 Plus is one of the thinnest phablets out there, so you might have to proceed with caution when carrying around without a case in skinny jeans and while driving a stickshift, for instance. Not that anyone would try and fit it in skinny jeans, given how tall the 6 Plus is, but you never know.
That is why we wanted to ask you if the so-called #bendgate (yep, it has a hashtag now) would impact your decision on getting the iPhone 6 Plus. After all, the big screen is the phablet's main attraction, making it ideal for media consumption, web browsing and reading, so there are plenty of iOS users that would reach for the 6 Plus instead of the 4.7" iPhone 6. Check your opinion in the poll below, and argue it in the comments.