Samsung tackling driver distractions with its new app: In-Traffic reply, beta download available
7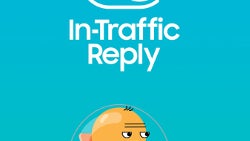 Phone usage while driving is more than a decade-old problem, which we just can't seem to get rid of. As handsets become more and more advanced and entertaining, so grows our temptation to use them when behind the wheel. But it's not just a question of resisting the temptation to check your Instagram likes — often, we feel pressure to answer a message or a call in an instant, especially when there is some serious context to it.
Manufacturers have been pressured to figure out a system that blocks a user's smartphone when the phone's sensors detect that they are in a car or on a bicycle. For example, in a fairly recent tragic car crash, the victim's family
chose to sue Apple
for not blocking FaceTime in moving cars, instead of going after the reckless driver who rammed into them while talking on his phone.
It seems like Samsung may be the first major phone developer to come out with a solution that is more drastic and more effective than the previously-released Drive Mode. The company has just announced "In-Traffic Reply" — an app, still in beta, which will actively attempt to limit driver distractions automatically.
It's developed by Samsung Netherlands and when we first heard about it, some two weeks ago, it was said that it will soft-launch in the Netherlands first and then get distributed to other markets, if it garners interest. Well, apparently, it has enough people asking about it long before its launch, as Samsung has now announced the app through its Global newsroom blog, which pretty much implies that it will be launching in multiple regions on day 1.
The app detects when the user is in a car or on a bicycle and turns on its In-Traffic Reply mode automatically. Then, if you get a text or a call, it gets immediately cut off, and the app sends a pre-set message (something like "I can't answer you right now, I am driving"), accompanied by a cute smiley mascot in a vehicle — we all know nobody can stay mad at you as long as the smiley is cute enough!
The app will work with a selection of popular chat services, such as Facebook Messenger and WhatsApp, not just with phonecalls and SMS texts. Samsung promises that In-Traffic Reply will hit the Google Play Store sometime in the middle of May.
In the meantime, if you want to try out the beta, you can grab its .apk from SamMobile's website (linked below). It's version 0.2 and is available in English, French, and Dutch. Fair warning — the default language is English and if you switch off of it, there's no option to get it back, so you will need to reinstall the app.