Apple sued by the parents of a 5-year old girl who died in a car accident
73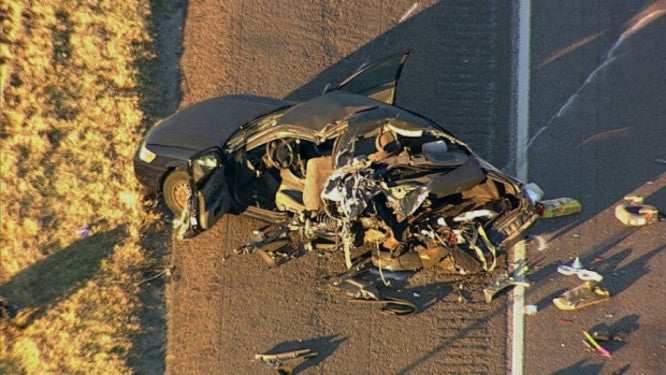 The accident at the center of a suit over Apple's FaceTime feature
Life changed forever for James and Bethany Modisette on December 24, 2014. That was the date when they lost their five-year old daughter, Moriah, to a horrific car accident. The family was in their car, slowing down because of traffic congestion. But a 20-year old driver, whose name is not being made public, smashed into the Modisette's car at 65 miles per hour. Why didn't he slow down? He allegedly was in the middle of a FaceTime video chat on his
Apple iPhone 6
. When the cops arrived, they found the FaceTime call still in progress with the app still running.
In a civil lawsuit pertaining to the crash, the Modisette's are including Apple as a defendant. The tech titan is being accused of not implementing a lock out feature to prevent those driving a car from using FaceTime. Apple had already patented such a design and by not implementing such a feature, the suit calls the iPhone 6 defective. The suit accuses Apple of breaching its care to the plaintiff. As a result, the driver's careless behavior is "inextricably intertwined" with Apple's failure to implement the patented lockout feature.
The suit doesn't request that Apple add the lockout feature on current and future models. Instead, it seeks damages, medical expenses, and other payments that the court might see fit to demand. Oh, in case you were wondering, Texas has no law against the use of a cellphone by a driver over 18 who is motoring down the state's highways.
"Despite both the technology since 2008 and a patent on that technology so it could exploit its patent without competition for 20 years, defendant Apple has consistently and continuously failed to implement a safer, alternative design that would lock-out and prevent use of FaceTime while driving."-Court filing
It is a tragic tale, to be sure. By you don't have to be familiar with the law to realize that the plaintiff's attorneys know full well that they weren't going to get much money from a 20-year old. Instead, they went after the deep pockets. And as far as companies are concerned, there aren't many with pockets as deep as Apple's are.
You can check out the court papers that have been filed by clicking on the slideshow below.
source:
Scribd
via
AppleInsider
>