Samsung says "we will take all necessary measures to ensure the availability of our products" in the US
40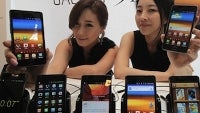 Samsung issued a statement today that it is willing to work around the issues Apple says
the eight phones included in its injunction request
presented in the aftermath of the
patent infringement verdict against the Koreans in the US
.
These eight devices on various carriers account for most of Samsung's smartphone revenue for the first half of the year, which is why Apple has cherry-picked them as first in line on a list that might goes for 28 devices in total.
Samsung issued a very brief, very contained press release regarding the sales ban request: "
We will take all necessary measures to ensure the availability of our products in the U.S. market
", and that's that.
What measures might be taken to work around such touchscreen operation stalwarts like double tap to zoom is not clear at this point, but Samsung is actually saying its other options are to file a motion against the injunction, or appeal from here to eternity any negative decision that
Judge Koh has to come up with on September 20
, when the ban is to be upheld or denied.
Recommended Stories