Samsung says the Galaxy S6 can "change the way you take pictures"
27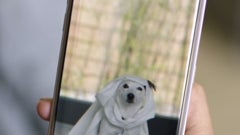 Not long ago, Samsung released a video ad titled
"Galaxy S6: Change the way you charge"
, presenting the built-in charging capabilities of its latest flagship smartphone as an advantage that this has over competing devices, including the iPhone.
Now, Samsung posted a similar ad, but this time it's about the rear cameras of the
S6
and
S6 edge
. More exactly, about camera launch speed. Samsung says that the Galaxy S6 and S6 edge can "change the way you take pictures" thanks to the fact that their 16 MP rear cameras are very quick to launch: it can take less than 1 second to launch the camera on either of the two handsets if you double tap on the home button.
The new ad presents a situation in which the quick-launch
camera of the Galaxy S6
comes in handy when a "next-level cuteness" moment needs to be photographed before "it's over." While the S6 succeeds in taking fast photos, another smartphone (which seems to be an iPhone 6) fails in doing so, leaving its owner frustrated. Take a look at the video for yourself, and let us know what you think about the rear camera that Samsung included on the S6 and S6 edge.