How to take awesome photos with the Samsung Galaxy S6 – 9 camera tips and tricks
16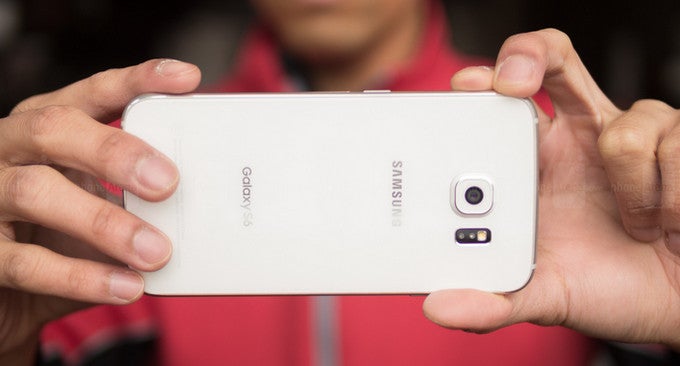 To say that the
Galaxy S6
has a great camera would be an understatement. Samsung's flagship boasts a 16MP, optically-stabilized shooter that's one of the best to ever grace a handset, as our numerous camera tests have shown. But to tap into the full potential of the Galaxy S6's camera, one has to be familiar with its modes and settings. And now that we've explored the camera's arsenal of features, we can give you a list of tips on making the most of the Galaxy S6's snapper.
Tip #1: Burst mode is awesome
Sometimes, a fraction of a second can make the difference between an award-winning photo and one you wouldn't really wish to share with anyone. Capturing a very specific moment in time, however, can be a serious challenge. This is where Burst Mode comes into play. It shoots a rapid succession of images – at least 8 full-resolution frames in the Galaxy S6's case – and you may later pick the best image from the bunch. You don't need to activate Burst Mode or choose it from a list of modes in order to use it. You just hold down the shutter button, and the camera instantly starts shooting a series of photos.
The image you see below has been captured in Pro mode, using manual settings. We set the ISO to 800 and reduced the exposure by half a step to get an extremely fast shutter speed. This is important as a fast shutter is required to "freeze" a moving object. A lower ISO setting will also do, as long as you have enough light in the scene, and will produce less noise at that. From a total of 17 images, we picked the one we liked best and cropped the area with the subject to highlight it.
Tip #2: Use manual focus for beautiful macro and bokeh photos
In Pro Mode, your Samsung Galaxy S6 lets you set the focus manually. This can be useful in a number of scenarios, especially when you're trying to snap a beautiful close-up photo. Taking decent bokeh shots is also possible with a little tweaking of the focus settings.
To take a stunning close-up, set the focus to its closest possible setting, indicated by a flower on the focusing slider. Then place the camera at about 4 inches of distance from the subject and find the perfect focus point by moving the camera closer or farther. You may use the digital zoom to get a close look at the image and make sure you have excellent focus. Snap a shot when you're happy with your composition. By applying the same technique, you may also get a good-looking bokeh image, with plenty of blur in the background. For a smartphone camera, that is.
Tip #3: Correct those (rare) white balance inaccuracies
The camera on the Galaxy S6 may be one of the best around, but it isn't perfect. There are times when it just can't nail the correct white balance, although it is much better at this than most other smartphone cameras. As a result, the image might end up looking colder or warmer than it is in reality. This happened to us on several occasions – a few times while shooting outside, about an hour or so before sunset, and once indoors, where light was scarce and of unusual color tone.
The solution? Well, there's a few of them. To improve the color fidelity in those rare images with inaccurate white balance, you may open the Galaxy S6's built-in Photo Editor tool, choose "Tone", and adjust the "Temperature" slider until what you see on the screen matches what your eyes could see in the scene. Or you may adjust the white balance in Pro Mode prior to taking the image. Doing so is a bit trickier than editing a photo that's been already taken, but it should yield a better-looking photo.
Tip #4: HDR
Samsung's approach to HDR is probably the best you'll find on any smartphone camera. On top of being highly effective in scenes of high contrast, the HDR mode gives you a live preview of the image about to be taken. You may enable HDR when you're shooting against a strong light source, or if you simply want to add more detail and light to the shadowy areas in your frame. Just don't overuse it. Here's a few examples of the difference HDR mode can make.
Extra Tips