Samsung reveals 10 hidden features on the Samsung Galaxy S5
56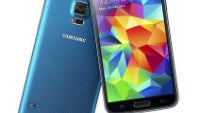 Part of the pleasure, or fun, of owning a high-end smartphone is finding out all of the little things that it can do. Samsung, for example, shoehorned some hidden features into the
Samsung Galaxy S5
. The latest iteration of Sammy's flagship Android phone has been available for a week and some owners of the device might have already discovered some of these hidden goodies.
First of all, the Samsung Galaxy S5 doesn't come with S-Pen. But why bother with such a high tech writing instrument when a regular low-tech pencil will do the trick. All you need to do is go to the Display Settings and enable the
increase touch settings
option. Another cool little trick involves the stock music player. While in landscape, tilt the phone to receive a list of tunes that are similar to the one you're listening to.
Got kids? We told you earlier this year about the Kids Mode on the Galaxy S5,
which will keep your kids busy with games and animation
. This way, junior doesn't accidentally dial your boss, or erase the important documents you've been storing on your handset. After tapping the Kids Mode app from the home screen, you set up an account with a PIN number. You can then decide which applications your kid can and cannot use. Prepare for tantrums!
Private Mode allows you, from the lockscreen, to hide video, pictures or documents from nosy busybodies like your mother-in-law. To access this feature, go to Settings then tap Private Mode. Decide which content you want to hide, click on Menu and then tap 'Move to private.' A lock key will appear which means that the selected content is secure. While not exactly hidden, Toolbox is always ready for you to use to open your favorite apps.You can reach this feature by clicking on Toolbox in the Quick Settings, or by going to Settings and tapping on Toolbox. A white circle with three dots will appear. Drag it over to the Edit button to customize which apps you want to be able to quickly reach. The floating menu will be available on every app and every screen so that youcan quickly open your favorite apps from any screen on the device.
You just saw Bigfoot, or Lindsey Lohan or
Eric Schmidt using a BlackBerry
and you need to open your camera application quickly. You can add a shortcut to the lock screen so that you can quickly access your snapper. This prevents you from missing the moment by fumbling to open the camera app on your Galaxy S5. Speaking of the camera, there is a setting that will allow you to shoot pictures and create a virtual tour. That comes in handy if you're a broker trying to sell a house.
Don't you hate scrolling through ten zillion contacts to find the number of Ms.Jane Doe? With Priority Senders, you can select the top 25 people you want to connect with the most, and have their names and information displayed on top of the messaging app. Just go the messaging app, tap '+' and add up to 25 contacts. And when you do call Ms. Doe, while talking with her, you can see the latest interactions you've had with her along with a list of her most recent Google+ posts. Simply go to Settings, tap on call and then click on the "Show caller information" check box. Lastly, the Call Notifications Pop-up feature will notify you when you receive a call, while you are using another app. This way, you don't have to stop playing a game just to pick up a call from the aforementioned Ms. Doe. To turn on the feature, go to settings, tap Call, and select Call notification pop-ups check box.
So there you have it, one hidden feature on the Samsung Galaxy S5 for each finger on your hand. Check them out and let us know how useful they are by dropping your comments in the box below.
source:
SamsungTomorrow
via
AndroidAuthority