Samsung removed its logo from the Galaxy S6 in Japan, but that didn't help
76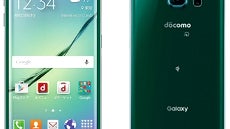 Samsung's
Galaxy S6
and
S6 edge
darlings are marching victoriously, occupying the top sales ranks in almost all regions, with a glaring exception - Japan. There, the Galaxy S6 and S6 edge occupied the 30th and 26th place in the weekly model sales report that ended May 3rd. The flagships were off to a somewhat more convincing start right post-launch in the Land of the Rising Sun, but afterwards things quickly went awry.
Adding insult to injury is that
Samsung even removed its own logo from the Japanese models
, leaving only the Galaxy brand on prominent display. Analysts are attributing sluggish sales of Samsung's new flagships to the recent mild freeze in relationships between Japan and South Korea, due to some arguments over history books.
Moreover, they add, there is a great deal of idealizing the West, and particularly popular American products in Japan, which explains why Apple's iPhone line is continuously occupying the top sales ranks there, where the
iPhone 6
, for example, currently sits at number one, despite being released way back in September.
Other than in Japan, the Galaxy S6 and S6 edge seems to be off to a strong start. They are in the top five of phone models sold in the U.K., the top three in Germany, and the preorder volume in China has been four times higher than with the
Galaxy S5
, for instance.