Samsung rejects Facebook phone pitch, 'watchers' claim it's Google fear
13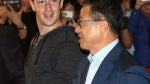 Yesterday, we heard reports that Facebook founder and CEO Mark Zuckerberg had a meeting with Samsung mobile unit chief Shin Jong-kyun while on a tour of Asia. The reports have said that Zuck was trying to convince Samsung to partner with Facebook to develop a Facebook Home device like the failed HTC First.
Unfortunately, the news out of Korea is that Samsung has no interest at all in helping Facebook develop a device, because supposed 'industry watchers' (not sources close to the project in any way) said:
Samsung doesn't want to help nurture a second Google, which is now becoming a formidable rival for Samsung in the handset business.
We have a couple reservations on this, because while it does make sense that Samsung wouldn't want to create a new rival by helping Facebook, we're a little skeptical as to if that reasoning extends to Google. First, as mentioned, the analysis of an 'industry watcher' doesn't really sway us much. Second, Samsung has built its empire in partnership with Google, and calling Google a "formidable rival" to Samsung sounds more like media flame than the real world.
No doubt, Samsung would like to reduce its dependence on Google, which is why the company is supporting Tizen, and loading up its Android devices with its own content stores. But, Samsung must realize just like we all do that its success is due to the close partnership it formed with Google. Calling any Nexus hardware "rivals" to Samsung hardware (assuming the Nexus device is in the 3 out of 6 that weren't made by Samsung) is absurd, because Nexus hardware is for enthusiasts and developers, and never comes close to competing with Samsung Galaxy devices in sales.
Still, it looks like Facebook will have to look elsewhere for help. Maybe Huawei is willing to partner with Zuck and crew.