Samsung quietly reverts decision to automatically select default apps after first use
14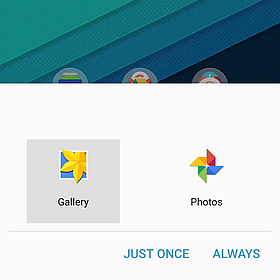 Samsung has quietly reverted a controversial change to the 'Open with' app selector screen that has bugged multiple Galaxy smartphone users.

On the vast majority of Android phones, when you first open a new link that can be tied up to a certain app, the OS lets you choose the default app or use an app 'just once'. This method of handling default apps has been around since the early days of Android and is a system that anyone who has ever used a desktop OS is well accustomed with.

About a couple of years ago, Samsung made a rather weird change to this selector. Instead of letting you open a link with an app just once, the first selection was automatically registered as the default app. This made sense for some of the more advanced users. However, those who weren't as confident in selecting the default app for a certain action had to go through the complicated process of clearing the default app for a link, then choosing another app when the 'Open with' selector pops up.

The Samsung Galaxy S6 and the S6 edge were the first Samsung phones to feature with this modified default app selector, as did all future Galaxy flagships, while older phones such as the Galaxy Note 4 were updated to include the change. Needless to say, not everyone was happy about the new default app establishment system.

As it was recently discovered, Samsung has quietly introduced a way to revert the change at some point in the past couple of months. Head on over to Settings->Applications->Default Applications and you'll find a new switch that makes the phone revert back to the old method, which is to allow you to open a link with an app 'Just once' or set as the default app by hitting 'Always'. Note that not all Samsung Galaxy phone users in the US are currently seeing this new setting on their phones.
Is anyone happy to see the old default app selector back?