Samsung publishes first audit of working conditions at Chinese factories: high turnover, no huge violations
27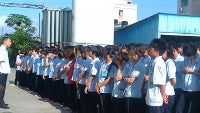 Apple's Foxconn manufacturing plants might have brought overseas working conditions into focus after a few Chinese workers committed suicide jumping from the buildings under the stress of long work hours, but working conditions are a problem not only in Apple's suppliers. Now, after reports of poor working conditions in its Chinese plants,
Samsung has finished the first big audit of its HEG Electronics facility
in Huizhou, China and it reveals some interesting facts, but no illegal practices.
In August 2012, a report by China Labor Watch raised concern about the factory's condition, and in a three week period from August 9th to August 30th, Samsung audited the HEG plant.
Interestingly, it turns out that the turnover rate at the HEG facility is huge, nearly 30% per month. This actually made it hard to have conclusive results from the audit as the workforce just changed so quickly.
Samsung's investigators did not find any underage workers on site, but there were 520 students aged between 16 and 18. That's nearly 19% of HEG's total workforce, but it's not illegal - in that particular Chinese province student workers below 18 can compose up to 30% of the company's staff.
The
average salary
for HEG employees was $275 (1740 yuan), more than the minimum 950 yuan for Huizhou China province.
So overall, Samsung will take measures against overtime that was sometimes more than the allowed 9 hours a week and also provide access to a medical clinic, right now missing for the workers.
source:
Samsung Tomorrow
Findings from the Samsung Electronics Field Audit of HEG in Huizhou, China



1. Audit period: August 9, 2012 to August 31, 2012

2. Audit method: On-site investigation of all HEG employees through face-to-face ID checks, review of HR records,

1:1 interviews with student workers

3. Audit team: A team of 30 Samsung employees from headquarters in Korea and the local subsidiary,

including environmental safety professionals

4. Audit Scope: Employee age, employee conditions, workplace safety, working hours, meal policy

5. Audit results:



Employee Age



Samsung conducted an audit of HEG's facilities to identify the presence of workers under the age of 16 through 1:1 interviews but was unable to confirm the existence of workers under 16 years old.



Although the Samsung inspectors did not identify any underage workers while they were on site, there are currently student workers or interns under the age of 18 years old on site, comprising approximately 19% , or 520 people, of HEG's workface. In Guangdong Province, where the HEG facility is located, student workers can legally comprise up to 30% of the total workforce.



► Samsung informed HEG that the use of child labor is strictly prohibited and Samsung will immediately terminate its contract with HEG if any instances of child labor are discovered.



Employee Conditions

A system of penalties and rewards for lateness and absence, which had been banned in China in 2008, was identified to be in operation.



► Samsung demanded HEG abolish inappropriate and unlawful HR policies.

HEG's preferential employment policies toward female workers, between the ages of 16 years old to 30 years old, on its mobile phone assembly line are permitted under Chinese law.



The average hourly rate paid to student workers is 10 Yuan per hour, equivalent to around 1,740 Yuan per month. The minimum wage in Huizhou, China is 950 Yuan per month.



Workplace Safety

The mobile phone assembly line has a low accident rate.



Only a simple medical examination was conducted when employees entered the company, rather than the mandated annual checkup. Access to first aid material and a medical clinic was inadequate and did not meet local regulations.



► Samsung demanded the establishment of an on-site medical clinic and adequate first aid provisions be provided.



Working Hours

It was confirmed that many HEG employees were found to be exceeding the legal limit of overtime, of nine hours per week or 36 hours per month, and some employees were working for 26 to 28 days per month.

► Samsung demanded that HEG create compliance plans and systems for observance of court-dictated over time regulations be put in place.



Meal Policies



HEG provides two meals per day free of charge for all employees. For the third daily meal, 5 Yuan per day is deducted from their income. Three meals per day are provided free of charge to student workers.

During the night shift (20:00 to 08:00) a one hour meal break was offered at 01:00. But when employees worked overtime, there was insufficient time for breakfast.



► Samsung demanded HEG resolve the issue over meal deductions for meals not taken through the issuance of meal coupons for greater flexibility in meal times.

The dormitory, compared to other companies in the region, has good facilities.