Samsung plans on going all the way to the Supreme Court with its patent fight against Apple
30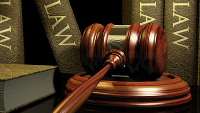 Samsung filed legal papers on Wednesday to have its patent battle against Apple heard by the highest court in the land, the U.S. Supreme Court. Recently, the Korean manufacturer had a request to have its appeal heard by the entire U.S. Federal Circuit Court of Appeals, rejected. Previously,
a three-judge panel from the Court ruled in Apple's favor
.
Samsung is asking the Supreme Court to overturn the part of the Jury verdict dealing with Apple's design patents. Samsung still owes Apple $548 million from the first patent trial. That amount was reduced
from the original $1.05 billion awarded to Apple by the jury
. Judge Lucy Koh agreed with Samsung that some calculation errors were made by the jury and the award was reduced. The U.S. Court of Appeals for the Federal Circuit in Washington, D.C.
further reduced the award by $382 million by eliminating the damages awarded to Apple
for the infringement of its "trade dress."
"The questions present issues of enormous importance to patent litigation and the scope of innovation, especially in high-technology industries."-Samsung filing
The Supreme Court's current term expires in June, and it is expected to decide before then whether to hear the case. Samsung did catch a huge break earlier this week
when the USPTO ruled that Apple's design patent is invalid
because of "obviousness." With the ruling from the USPTO, Samsung could ask a judge to toss out the remaining damage award since there would be no valid Apple patent that Samsung could be accused of infringing.
Keep in mind that only 1% of petitions to the Supreme Court succeed. Meanwhile, Samsung has filed a motion to stay execution of a mandate. This filing, made in Federal Circuit Court, prevents Apple from collecting a dime until the case is truly over and all appeals are exhausted. Since we're at the point where a filing has been made to the Supreme Court, it seems like we are there.
source:
FOSSPatents
,
SanJoseMercuryNews
via
AndroidCentral
>