Samsung patents 'floating display' for foldable phones and tablets
14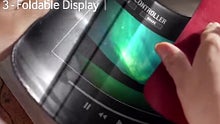 Samsung is not only at the forefront of flexible display production, but the rumor is that it will have an actual bendable phone on the market, dubbed Galaxy X, by early next year. It will then be ready to clash with the
iPhone 8
which is also rumored to have a
flexible OLED panel
with plastic substrate.
Doing it the American way, Samsung has
cornered pretty much every shape and form
you can do with a flexible phone display in the patent office, from vertical to horizontal unfolding, rollable and stretchable designs, and everything in-between. Its latest patent applications now fleshed out a bit more how a foldable mobile device might get unlocked, as well as ways to make the screen edges more useful - like deactivating touch there when a phone is open, and firing up actions for, say, a music player, when closed, depending on which side the phone lies.
Samsung also lists ways to unlock a foldable tablet, and the rather interesting "floating display" concept, which pulls up the screen imagery while you are opening the phone, so you can just take it ajar a little for a quick glance, for instance, instead of snapping it wide open completely.