Samsung patent contains cool technology that could debut on the Galaxy S11+
21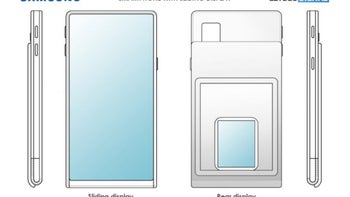 A patent application (with the name "Electronic Device including flexible display")
filed in April by Samsung with the World Intellectual Property Organization
(via
LetsGo Digital
) and recently published by WIPO might give us a clue about what to expect from the Samsung Galaxy S11+. The patent reveals a phone sporting a sliding, retractable display with an upper bezel that has completely disappeared. The result is a handset that is nearly all screen in the front except for a thin metal frame at the bottom where the display retracts up and down from.
Sliding the screen downward increases the overall screen size, moves the screen back up, and then reduces the size of the display as it retracts. The retractable display is housed in the back and moves through the bottom to the top of the phone. As the screen is rolled out, there is also a second, smaller display on the back that uses part of the retractable screen. Even when the screen is being rolled out, this second screen is smaller than the one in front. Answering a call could be done by sliding up on the screen.
Part of the patent also deals with an under-display camera that rotates when the screen is rolled out. The selfie camera is located in the lower half of the device. In the back of the phone, a so-called 'through-hole' will allow the lens to capture photos even when the screen is retracted. The patent also covers a dual-camera version of this configuration.
The Huawei P40, expected as soon as the first quarter of next year, could feature an under-display selfie camera,
and we have seen both Oppo
and
Xiaomi show off such technology
. The reason for moving the selfie snapper off the top bezel is to increase the screen to body ratio without having to use a pop-up camera, a wedge or even a notch. And with an under-display camera, there is no need to drill a punch hole in the screen.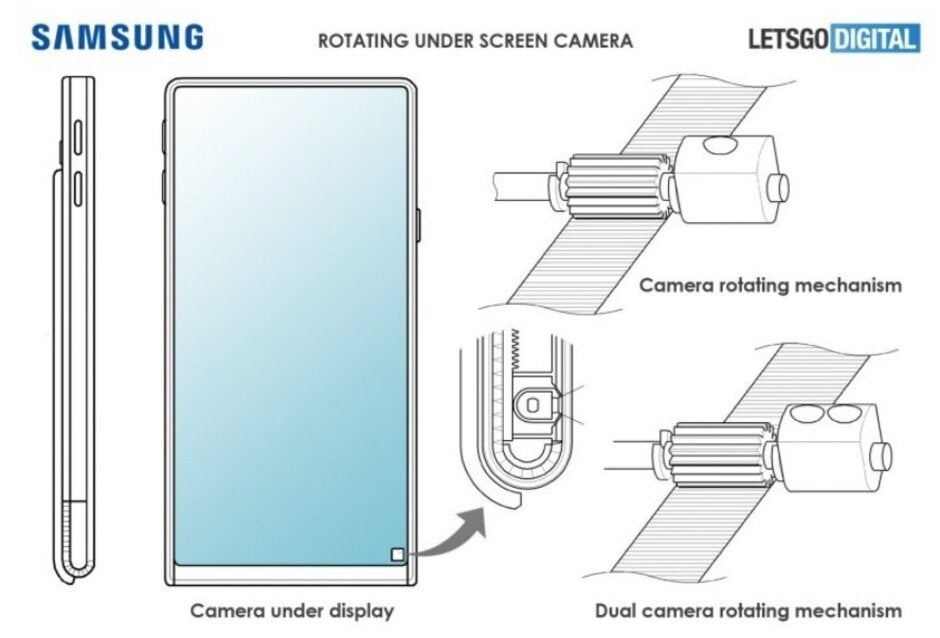 The rotating under-display camera from Samsung's patent
The retractable screen technology seen in the patent might not be ready for prime time. But LetsGo Digital says that the Galaxy S11+, expected to feature a larger "elongated" display, could use a sliding, retractable screen to achieve that look. And the under-display camera, while still possible for the Galaxy S11+, could also debut on Samsung's second foldable phone due out next April.
Recommended Stories