See the first under-display smartphone camera in action!
55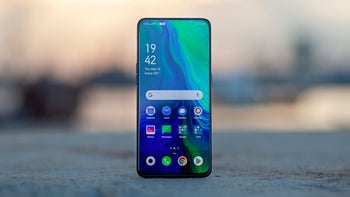 Over the past year, smartphone makers have been getting creative with different ways to hide front-facing cameras. As bezels slim to the point that there was simply no room for a selfie snapper, companies resorted to out-there solutions such as pop-up and swivel modules, sliding screens, and display punch-holes (to name a few). But the perfect solution would no-doubt be to just embed the camera under the display and have no moving parts or blemishes on the screen, right? Well, yes, but that's easier said than done.
Prior to the launch of the Samsung Galaxy S10, we theorized what a
truly all-screen phone could look like
, and how it could work. The idea of an under-display camera isn't exactly new—patents for various solutions have existed for over a decade now—but technological limitations have prevented all of them from appearing in consumer products. This is about to change, however, as Oppo and Xiaomi have both showcased working prototypes of an under-display selfie camera.
Without any fanfare or much explanation, Oppo posted the following video on its official Twitter account:
For those seeking the perfect, notchless smartphone screen experience – prepare to be amazed.

You are taking a very first look at our under-display selfie camera technology. RT! pic.twitter.com/FrqB6RiJaY

— OPPO (@oppo) June 3, 2019
What you're looking at, is the first-ever under-display selfie camera in a smartphone. As you can see from the video, this Oppo prototype phone has no notch or display hole-punch, but instead has its front-facing camera positioned beneath the display. Details on how this implementation works are yet to be unveiled, but we know that its possible by using OLED technology.
Since they don't require a backlight, OLED displays can be transparent, yet still show images visible to our eyes. This is because OLED panels can emit visible light on their own, without the need for a separate light source behind them. We've already seen low-level implementations of under-display cameras with optical in-display fingerprint sensors, which are basically camera sensors, but getting an actual selfie camera in there, that takes high-resolution images of complicated scenes, is a different story entirely.
Determined not to be left behind, Xiaomi also shared a preview of its proprietary under-display camera solution. The company took to Twitter to post a
short clip
, showcasing an all-screen device with a hidden front-facing camera. Xiaomi's video is filmed from farther away, so it's harder to tell what's going on, but by the looks of it, it's a similar implementation to Oppo's.
There's no word on when we'll see this technology in mass-produced smartphones, but judging by the progress Oppo and Xiaomi have made,
"soon"
would be a relatively safe bet. We wouldn't be surprised if either company comes out with a phone with an under-display camera by the end of this year.