Samsung official explains why the microSD slot was gone in the Galaxy S6 and is back again in the S7
99+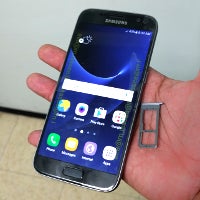 Last year, when Samsung launched its reimagined flagships — the
Galaxy S6
and
S6 edge
— many were happy to see the company go for much more premium materials, as the phones were the first Sammy-made handsets to feature the metal-between-glass design language that we see today on its mid-to-top-tier devices. However, no small amount of users were disgruntled at the fact that Samsung omitted two key features its top smartphones had up until that point – a user-removable battery and an expandable storage, via microSD. This was a hit for powerusers, who were used to keeping a spare battery for peace of mind, and who didn't fancy the idea of paying $100 extra per storage tier (the Galaxy S6 sold in 32 GB / 64 GB / 128 GB variants).
With the
Galaxy S7
and
S7 edge
, Samsung
reintroduced the microSD card slot
for storage expansion. Both phones now come with a pretty generous 32 GB / 64 GB of internal memory and accept cards of up to 2 TB. It only makes sense that a flagship capable of 4K video recording would actually have the space to store the clips it takes, after all.
The new UFS 2.0 memory wouldn't gel well, performance-wise, with a microSD card slot, Samsung feared
Samsung head of technology, content, and launch management Kyle Brown spoke for TechRadar, saying that a microSD slot in the Galaxy S6 posed a risk to slow down the device. If you recall, it was the first handset where Sammy introduced its
super-fast UFS 2.0 memory
, which was
almost three times faster
than the previously used eMMC 5.0 chips. Samsung was concerned that data stored on the microSD card would be read slower, thus bogging down the phone's performance.
Since the new Galaxy S7 and Galaxy S7 edge handsets are just an upgrade to the fundamentals that were already laid down by their last year's predecessors, instead of an entirely new concept, Samsung was able to work on a solution and "get the best of both worlds", Mr. Brown said. He continued to note that the return of the midroSD slot was one of the features of the S7 that received the most positive reaction from consumers, but also said that the team is very proud of bringing water- and dust-resistance back to the Samsung flagship line.
A true tech hurdle, or did Samsung just backtrack on a business decision that lost it some customers — what's your take?
Samsung Galaxy S7 and S7 Edge