Super-fast UFS 2.0 flash memory no longer exclusive to Samsung devices as SK Hynix gears up to supply "global handset makers"
61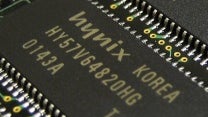 If there's one thing about the Samsung Galaxy S6 & s6 edge that genuinely put them head and shoulders above their peers, it has to be the excessively fast UFS 2.0 flash storage. It was a piece of arsenal unique to Samsung's war chest, as the South Korean company was the first to mass-produce and integrate the technology inside its smartphones.
Luckily, it will no longer be just Galaxy S6/edge owners who are privileged to the benchmark-busting wonders of UFS 2.0. SK Hynix, a fellow Korean firm specialized in semiconductors, announced it's joining the UFS production game, with ongoing talks to supply 64GB UFS modules to "global handset makers" already in place.
SK Hynix's UFS storage is capable of performing as many as 32,000 input/output operations per second for random reads, which is up to three times faster than the eMMC 5.0 storage that's prevalent today. What makes UFS become
a racecar memory tech
is a combination of Command Queuing and multi-threading. The former lets solid-state drives handle read and write commands simultaneously for better efficiency, and the latter allows commands to be given different priorities - for example, more intense read/write for better user experience, or taming the chips for reduced energy consumption.
According to "industry watchers", SK Hynix's UFS chips will reach high-end smartphones and tablets as early as this year, and it will gradually be adopted by low-end devices as it ousts eMMC as flash storage standard. More specifically, UFS could make up 4% of mobile embedded memory products this year, and is expected to claim 23% by 2017 and 49% by 2019, respectively.
source:
Korea Herald