Samsung now leads the Chinese phone market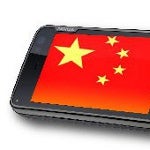 We wouldn't care all that much about China if it wasn't now the world's largest phone market, surpassing the United States, but now that it is it's interesting to see just what are the dynamics of the Chinese market and how similar (if at all) it is to the US. First, we have to mention that in the past China was one of Symbian's strongholds, Nokia had a couple of deals with local carriers and basically everything seemed locked in for the future.
Turns out, though, a lot has changed in the last year and now Nokia has tumbled catastrophically
giving away the lead to... Samsung and Apple
, of course. Samsung has now taken over as the biggest phone maker in China, followed by Cupertino, and that's one thing that makes the Asian country similar to the States.
There are tons of differences, though, and the most prominent one is the strong presence of local players like ZTE and Huawei. The two companies along with Lenovo and local player CoolPad will make up a huge majority of the total phone sales in China. If you add Nokia, you'll have a clear picture of the market where a total of seven companies hold around 85% of it all.
If Nokia continues sliding on the downward spiral, five of the leading six companies will be offering Android handsets, so that means Google's platform could end up being the big winner from the transformation currently going on in China.
source:
ZDNet